See what some of our customers have to say about our portable Tiki Bars!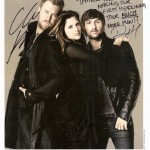 TikiBarToGo.com,
"Thank you for making our first headlining tour much more fun."
~Lady Antebellum
"What a fun concept! We pulled out all the stops for our company's luau themed anniversary party and the best part was our new tiki bar. It was the focal point of the night. Everyone loved heading up to the tiki bar for a Mai Tai or Lava Flow! It brought the tropics to us! Guests want to know the tiki bar will come out again."
~Frances
Hi Joe,
"I recently sold my Maui Wowi Franchise and I had promised my folks if I ever sold it, I'd save one of my tiki huts for them, to have by their pool during parties. Then, I ended up including both my tikis in with the sale. They were really disappointed, so I am taking some of my earnings from the sale, and getting them their very own, just like the one I had. Those tikis of yours made me a lot of money over the past 4 years! Thank you!"
~Chuck
Joe,
"Got the bar…set it up…it looks great and is easy to set up. I'll send pictures from the Buffett concert in April.
Thanks."
~John C.
Aloha Joe!
"I don't think I ever said THANKS for being a fantastic business partner. I get so many comments on the tiki bar (and I always give your name and web address). I tell people how you constantly improve it. But beyond all that, if you hadn't invented this I'd be in a very different and much less happy spot. So thank for being there for me. And enjoy continued success!"
~Mitch
Hello,
"Just received our Tiki Bar. This bar is great and better than expected."
~Tyson"
Joe and John,
"This is Pvt. Gonzalez and I'd like to take the time to thank you guys for the tikibar. Now that we've settled things a bit down in Iraq we've been able to put up the bar and we use it on weekends."
Thank you.
~Pvt Gonzalez, United States Marine Corps"
Joe,
"I just wanted to let you know how much the tiki bar added to my wife's surprise party. She and everyone at the party loved it. David was great. He arrived right on time, had it assembled and cleaned up after himself in 20 minutes. He was extremely nice, efficient and clean. It was also great that he was so accommodating when I called him the next day and asked if he could come an hour earlier than we planned, so I could make it to my daughter's track meet on time. Please pass on my thanks to him. It was great working with you and I'm sure I and some of my guests will be calling you in the future. We were all very impressed!"
Best Regards,
~Tyrone
Yeah!
"I knew if I searched long enough I would find a Parrothead who did this! Jimmy will be in Phoenix in April and we are planning one heck of a tailgater. My friends think I'm crazy, but I've been on a mission to find just the right Tiki Bar. I didn't want to spend too much on one that wouldn't be easily portable. Tiki Bar to Go is just IT!! Not outrageously expensive but super cool, (exactly what I had in mind) and portable."
Thanks,
~Jeri"
"I just wanted to let you know how much the tiki bar added to my wife's surprise party. She and everyone at the party loved it. David was great. He arrived right on time, had it assembled and cleaned up after himself in 20 minutes. He was extremely nice, efficient and clean. It was also great that he was so accommodating when I called him the next day and asked if he could come an hour earlier than we planned, so I could make it to my daughter's track meet on time. Please pass on my thanks to him. It was great working with you and I'm sure I and some of my guests will be calling you in the future. We were all very impressed!"
Best Regards,
~Tyrone